The latest research demonstrates the importance of a healthy diet in relationship to getting cancer. So why not try out some of my super-healthy recipes this New Year and combine with exercise and cutting down on drinking (no not Dry January, just dry weeks and a coup;e of drinks at the weekend. No need to be entirely miserable about being healthy!) This is from the Guardian:
The growing incidence of obesity in the UK could see more than 700,000 new cases of cancer associated with excess weight over the next two decades, according to a report by health campaign groups.

The study, published by Cancer Research UK and the UK Health Forum, predicts that if current trends are maintained, by 2035 obese will be the most common body type for UK adults, with almost three-quarters of people overweight.
The groups, backed by the chef turned food campaigner Jamie Oliver, are highlighting the prevalence of excess weight among young people and are demanding a 9pm watershed on TV adverts for junk food, as well as a 20p-a-litre tax on sugary drinks.
The report, titled Tipping the Scales: Why Preventing Obesity Makes Economic Sense, estimates that the increase in obesity would bring millions of new incidences of type 2 diabetes, coronary heart disease and stroke, as well as the 700,000 new cancer cases. By 2035 the combined costs of this to the NHS would be £2.5bn a year more than is already spent on diseases associated with obesity.
The authors stress, however, that relatively small changes could bring significant effects. Just a 1% shift in the proportion of people moving into unhealthy weight categories each year could prevent more than 64,000 cancer cases over the 20 years, and save the NHS £300m in 2035, they calculated.
They note the societal effects of obesity, with poorer people most likely to be affected, and overweight children more likely to develop into obese adults, increasing their risk of cancer and other diseases.
Given the resultant focus on cutting the amount of sugar consumed by children and teenagers, Cancer Research UK said it wanted to see a 20p-a-litre tax on soft drinks, as well as a ban on TV ads for junk food before 9pm.
Oliver said such food education was vital to improve public health: "Being overweight or obese can cause many diseases, including some cancers. But I believe we can prevent the rising trend in obesity in the UK and across the world. Food education is key here. If governments take children's health more seriously and use education to inspire them, we could have a huge impact on their health and wellbeing.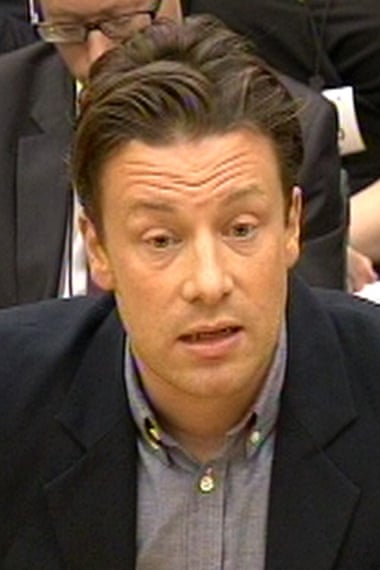 "We're raising a generation of children in a society where junk food is cheap, widely advertised and packed full of sugar, so it's difficult to teach them how to make healthy choices. We need to give these kids a chance to be healthier adults – starting with a tax on sugary drinks to tackle obesity and diet-related disease in young people."
Alison Cox, director of cancer prevention at Cancer Research UK, said children were "bombarded with advertisements for unhealthy food". She added: "It's vital the government restricts this kind of advertising if we are to give our children the chance for better and healthier lives.
"We need to attack the obesity problem on many fronts and we must act now. Otherwise our children will pay the price and the next generation will have poorer health, face more disease and die earlier."
Reacting to the report, Susan Jebb, professor of diet and population health at Oxford University, said it was based on "robust national survey data".
She said: "There is growing awareness of the links between obesity and diabetes or heart disease, but the links to cancer are less well recognised. Most people know that smoking causes cancer, but fortunately, most people in the UK now don't smoke and for them, managing their weight is the single most important thing they can do to reduce their risk of cancer.
"The suggestions for interventions to help curb rising weight are not new, but are timely reminders of the array of options for the government ahead of the publication of their new obesity strategy. Early prevention of obesity is crucial, but the report overlooks the need to save lives now by investing in effective support for the many people who are already overweight."